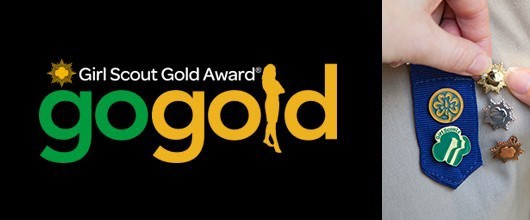 Gold Award
The Girl Scout Gold Award is the highest award a Girl Scout can earn. Once achieved, it shows colleges, employers, and your community that you're out there changing the world.
Join a century of women who have done big things. Learn more about Gold Award scholarships, the history of the Gold Award, and the benefits of going Gold. 

You can pursue your Girl Scout Gold Award if:
 

You're in high school (ninth through twelfth grade, or equivalent) 
 

You're registered as a Girl Scout Senior or Girl Scout Ambassador
 

You have completed two Senior or Ambassador Journeys OR earned the Girl Scout Silver Award and completed a Journey
 

You have taken your Gold Award Training. Visit our Events Calendar for in-person or online training options.
GoGold allows you to save information as you work through the seven project steps, listed below.
After you submit your proposal through GoGold (see step 5), you will be contacted by a GSCO representative about next steps and approval processes.
From this point, you project is expected to take you individually 80 hours.
Girl Scout Gold Award Steps


Investigate your issue thoroughly
 

Get help and build your team
 


Present your plan and gather feedback 
 


Gold Award Resources and Tips:
Use Girl Scouts of Colorado's Gold Award rubrics to understand the standards and expectations for the Gold Award in Colorado


Remember: Make sure you have completed training and have project approval before you begin the bulk of work on your project