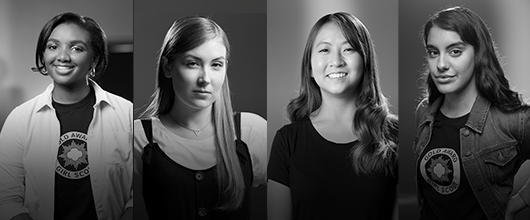 Gold Award Girl Scouts
Issues of the world, meet your match. 

Gold Award Girl Scouts are the dreamers and the doers who take "make the world a better place" to the next level.
The Girl Scout Gold Award is the the mark of the truly remarkable—proof that not only can she make a difference, but that she already has.
Seniors and Ambassadors who earn the Gold Award tackle issues that are dear to them and drive lasting change in their communities and beyond. Think of the Gold Award as a key that can open doors to scholarships, preferred admission tracks for college, and amazing career opportunities.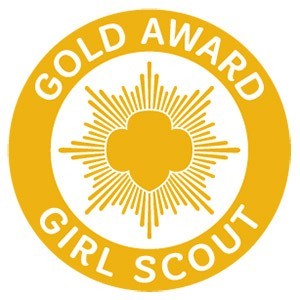 You can pursue your Girl Scout Gold Award if:
 

You're in high school (ninth through twelfth grade, or equivalent) 
 

You're registered as a Girl Scout Senior or Girl Scout Ambassador
 

You have completed two Senior or Ambassador Journeys OR earned the Girl Scout Silver Award and completed a Journey
 
Instructions on Taking Gold Award Training
If you have never used Google Classroom, follow these steps to join:

Make sure you have a google account (Gmail). THIS CANNOT BE A SCHOOL ACCOUNT (your school has settings to block usage on other sites) You can create a free account if you do not have one. If you have multiples girls in the same house, you can use the same account. The girls will just be able to see the other classes. 
Sign into classroom.google.com or the Google Classroom app with your Google account. 
Click the + to join your class using the classroom code.
Click "Classwork" to see the activities to complete the requirements for the badge or Journey. 
GoGold allows you to save information as you work through the seven project steps, listed below.
After you submit your proposal through GoGold (see step 5), you will be contacted by a GSCO representative about next steps and approval processes.
From this point, you project is expected to take you individually 80 hours.
Girl Scout Gold Award Steps


Investigate your issue thoroughly
 

Get help and build your team
 


Present your plan and gather feedback 
 


Gold Award Resources and Tips:

Use Girl Scouts of Colorado's Gold Award rubrics to understand the standards and expectations for the Gold Award in Colorado


Remember: Make sure you have completed training and have project approval before you begin the bulk of work on your project.