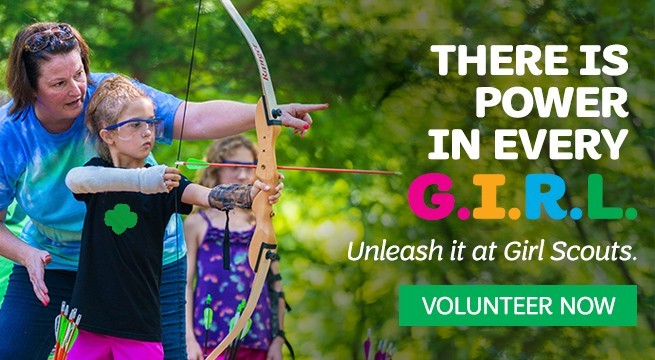 Already a member? Log in to renew.
Be the role model she'll always remember.
As a volunteer, you'll introduce girls to new experiences that show them they're capable of more than they ever imagined. They'll each find their inner G.I.R.L. (Go-getter, Innovator, Risk-Taker, Leader)™ after all! We always need troop leaders to start new troops for girls in grades K-12, and there are numerous other opportunities to get involved.
Ready to be a volunteer?
We are so excited for you to be a Girl Scout volunteer! You'll be their cheerleader, guide, and mentor, helping them develop skills and confidence that will last a lifetime. Imagine the smiles, the excitement, the memories made—those are the moments you'll share at Girl Scouts. volunteering to be part of Girl Scouts of Colorado. We want to ensure that your volunteer experience is a positive one which starts with feeling prepared and confident to start your volunteer role.  We'll provide training and support all along the way, so you're not on your own. 
If you haven't already, become a member of Girl Scouts. Membership costs $25 per year. (Membership fees are non-refundable and non-transferable.)
Connect with your Volunteer Support Specialist (VSS). Once you have a processed background check, your VSS will reach out by phone and/or email to introduce themselves and schedule a time to chat. They are your go-to person at Girl Scouts of Colorado and will get you set with  required trainings and other steps to get you started in your volunteer role. Haven't heard from them yet? Please let us know! Contact Us
Grow your troop. We have lots of resources to engage girls in your community in your troop. Customize GSCO resources for your troop. Don't forget to list your troop number to make it easy for them to register! 
Meet your Girl Scout Family: Before you start planning troop activities, you need to first meet the girls and their families at a family involvement meeting. The troop leadership team should organize a meeting that covers these essential topics:
Meeting time, place and how often 
Communicate expectations of girl and family involvement 
Learn about girl's (and families) interest in Girl Scouts
Recruit more leaders. You'll want at least two people on your leadership team, and the more the merrier!

Most importantly, have an amazing Girl Scout year! Don't forget to follow Girl Scouts of Colorado on social media and the GSCO blog to get real-time updates on happenings in our council. 
Ready to get started?
Click the button below to complete registration, view our Opportunity Catalog, and purchase your membership.
*The cost of the background check process will vary based on the costs passed along from the number of counties and states where the potential volunteer has lived for the past seven years and based on the number of aliases. The minimum cost will be $21 and Girl Scouts of Colorado will require the volunteer to pay at least that amount. For more information, read our FAQ.