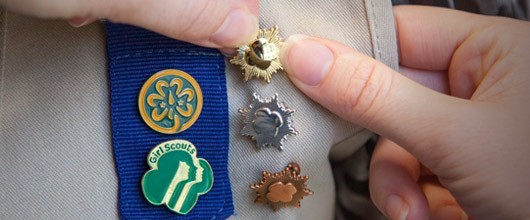 Highest Awards
Join Us for the 2021 Virtual Highest Awards Celebrations!
When: Sunday, May 16
Bronze Award Celebration 1 p.m.
Silver Award Celebration 2 p.m.
Gold Award Celebration 3 p.m.
How: You do NOT need to RSVP or have a link to attend the virtual celebrations. The virtual events will air on our  YouTube and  Facebook channels at their respective start times.
Celebrate your girls at home!
Put a yard sign out to let your community know you are proud of your Highest Awards Girl Scout! 
Participate in the live celebration scavenger hunt on May 16 
Every Girl Scout goes above and beyond to make a difference in her community and the greater world. The skills and experiences she gains along the way set her up for special recognition through the Gold, Silver, and Bronze Awards.
All three awards give girls the chance to do big things while supporting issues they care about.
As you earn one of Girl Scouts' highest awards, you'll change your corner of the world—and beyond. The possibilities are endless.

 Interested in planning a Highest Awards celebration for your Service Unit? Check out our tips and tricks.