GSUSA's COVID-19 guidelines do not permit travel and overnight trips at this time. We are monitoring closely to determine when GSUSA permits travel and overnight trips. Once travel is permitted, as always please complete the Girl Scouts of Colorado Trip Notification form for prior approval before planning any overnight stays and follow guidance in Safety Activity Checkpoints. Be sure to check the cancellation and refund policies for any travel and overnight stays as Girl Scouts of Colorado will not provide financial assistance related to trip cancellations and reimbursements.
When planning for future trips, you should follow the guidance of the CDC  and Department of State and look into any travel restrictions both locally and where you are planning to travel. Due to the constantly changing nature of the current climate, troops/groups are encouraged to consider rescheduling travel plans for 2020.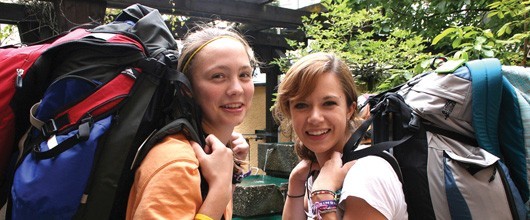 Travel
Every girl deserves a chance to see the world! Whether you're exploring your own neighborhood, going on overnight camping trip, or flying across the world—you're always expanding your horizon with Girl Scouts. Travel with Girl Scouts from our council and across the United States. There's an entire world out there waiting to be explored by you.
Ways to Travel
Girl Scout Destinations

Girl Scout Destinations whisk you to the far corners of the Earth! These trips are sponsored by councils across the country and are for all Girl Scouts ages 11 to 17. On these adventures, you will meet girls from all across the world while developing your leadership skills and gaining confidence through travel. From hiking through the Andes to snorkeling with turtles in Costa Rica, adventure is out there!

Girl Scout Destinations are travel programs available to individual Cadette, Senior and Ambassador girls. Each girl applies individually, and on her trip she will have the opportunity to meet girls from all over the US and travel to destinations all over the world! Get more information, download the application and check out the 2020 & 2021 trip listings  here!
Volunteer-Led Girl Scout Trips

Looking for more travel options? Volunteer-led trips are geared towards individual girls and girls wanting to travel outside of their own troop. Planning for these trips is girl-led, so girls can help design their dream travel experience.
Girls can use Cookie Credits toward Girl Scout travel experiences.
Upcoming trips:
Costa Rica
    June 2021 (dates are flexible)
    $2,775/girl, through EF Tours
    Open to girls 14 and older at time of trip
    Contact: Aimee Rogers, aimee0474@yahoo.com, 303-588-3967.


Costa Rica 2021 
    June 2021
    $3,219/girl (includes trip insurance)     
    Six different cities in Costa Rica through EF Tours.
    Open to girls 6th grade and older
    Contact: Jody Clair, girlscoutjody@gmail.com  
Where can you go?  Places like China, Costa Rica, Switzerland, Patagonia, Peru, Scotland, Germany, Mexico, and more!
How far will your Girl Scout experience take you? That's up to you!

The Girl Scouts of Colorado Global Girl Scouting Committee supports the mission of Girl Scout sisterhood through travel by sharing travel resources and opportunities to visit World Centers.
Learn more about Global Girl Scouting.
For more information about the Global Girl Scouting committee, please contact Aimee Artzer.