All troop domestic and international travel scheduled between now and May 20 should be canceled or rescheduled. For trips scheduled beyond May 20, troops should begin building contingency plans. 
For groups scheduled to travel with EF in May through June 12, they are encouraging these groups to start having conversations now about what they might want to do, and then EF will be ready to evaluate the programs (reschedule or cancel if necessary) by April 1. For groups scheduled to travel June 12 and beyond, EF has set "mid-April" as the timeframe to begin conversations to reschedule or cancel those trips. ​
Girl Scouts of the USA is looking at each Destinations trip individually and will mark those that are canceled on their site.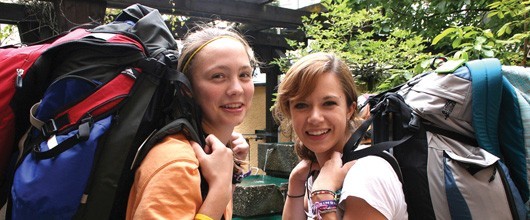 Travel
Every girl deserves a chance to see the world! Whether you're exploring your own neighborhood, going on overnight camping trip, or flying across the world—you're always expanding your horizon with Girl Scouts. Travel with Girl Scouts from our council and across the United States. There's an entire world out there waiting to be explored by you.
Ways to Travel
Girl Scout Destinations

Girl Scout Destinations whisk you to the far corners of the Earth! These trips are sponsored by councils across the country and are for all Girl Scouts ages 11 to 17. On these adventures, you will meet girls from all across the work while developing your leadership skills and gaining confidence through travel. From hiking through the Andes to snorkeling with turtles in Costa Rica, adventure is out there!

Girl Scout Destinations are travel programs available to individual Cadette, Senior and Ambassador girls. Each girl applies individually, and on her trip she will have the opportunity to meet girls from all over the US and travel to destinations all over the world! Get more information, download the application and check out the 2020 & 2021 trip listings  here!
Volunteer-Led Girl Scout Trips

Looking for more travel options? Volunteer-led trips are geared towards individual girls and girls wanting to travel outside of their own troop. Planning for these trips is girl-led, so girls can help design their dream travel experience.
Girls can use Cookie Credits toward Girl Scout travel experiences.
Upcoming trips:
Costa Rica
    June 2020 (dates are flexible)
    $2,775/girl, through EF Tours
    Open to girls 14 and older at time of trip
    Contact: Aimee Rogers, aimee0474@yahoo.com, 303-588-3967.


Costa Rica 2020 
    June 2020
    $3,219/girl (includes trip insurance)     
    Six different cities in Costa Rica through EF Tours.
    Open to girls 6th grade and older
    Contact: Jody Clair, girlscoutjody@gmail.com  
Where can you go?  Places like China, Costa Rica, Switzerland, Patagonia, Peru, Scotland, Germany, Mexico, and more!
How far will your Girl Scout experience take you? That's up to you!

The Girl Scouts of Colorado Global Girl Scouting Committee supports the mission of Girl Scout sisterhood through travel by sharing travel resources and opportunities to visit World Centers.
Learn more about Global Girl Scouting.
For more information about the Global Girl Scouting committee, please contact Aimee Artzer.