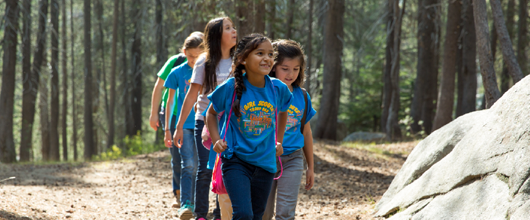 Outreach
We believe every girl deserves access to the life-changing benefits of Girl Scouts!
Each year, the Community Outreach Program provides the Girl Scouting experience to more than 1,000 girls at over 50 sites throughout the state of Colorado. Girl Scout Outreach activities are supported by council resources and generous donors.
Outreach is comprised of four main programs designed for girls in specific underserved communities:
Focus on Abilities:
For girls with learning, behavioral, mental, and physical disabilities ranging from mild to severe.
Provides social/emotional well-being for girls as well as support for their teachers.
Girls are Great:
For girls in or entering middle school.
Focuses on building confidence, leadership, and friendship skills, as well as proper self-care.
Discover All You Can Be:
For girls living in low-income housing and/or attending low-resource schools.
Girls participate in STEM activities, creative arts, confidence building, badge-earning, and Girl Scout journeys.
Girls Looking Forward:
For girls in juvenile corrections facilities and treatment centers.
Program focuses on social/emotional well-being, proper self-care, and goal setting through the use of creative arts.
---
You can support the Community Outreach Program by donating to Girl Scouts of Colorado. Your donation helps to fund opportunity grants which subsidize the cost of uniforms, program materials, trainings, Council-sponsored events/camp/travel, and GSUSA destinations for girls and volunteers. We provide more than $100,000 in opportunity grants each year.
   
Schools or other community programs based in Colorado Springs, Grand Junction, Metro Denver, or Northern Colorado interested in bringing one of the outreach programs to the girls they serve should contact Outreach us at inquiry@gscolorado.org