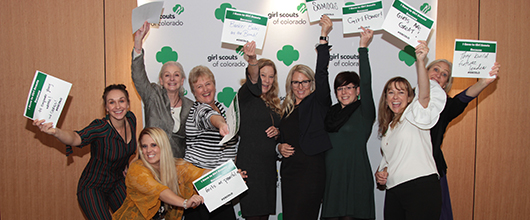 Alumnae
Once a Girl Scout, Always a Girl Scout.
Since 1912, women everywhere have been positively influenced, even transformed, by their Girl Scout experience. Today, the group of Girl Scout alumna is 59 million strong, and growing every day. These women are forever connected by their experiences, values, and love of Girl Scouting.
As one of these 59 million alumna, you personally remember how transforming Girl Scout programs are in a girl's life. Remember, as a Girl Scout, making your community a better place? Girl Scouts today are following in your footsteps, continuing to make the world better for all of us.
Thank you for your ongoing dedication to Girl Scouts!
Connect with fellow Girl Scout alums by attending one of our many events throughout the state, help plan an event, and get the latest Girl Scout news in our quarterly e-newsletter.


Contact Promise Partners in North/Northeastern Colorado - Linda Robinson.

Contact our Alumnae Committee based in Colorado Springs - Betha Koch.


Sign up for Girl Scouts of Colorado's quarterly Alumnae e-newsletter.
 

Are you a Highest Awards alumna living in Colorado? Let us know!