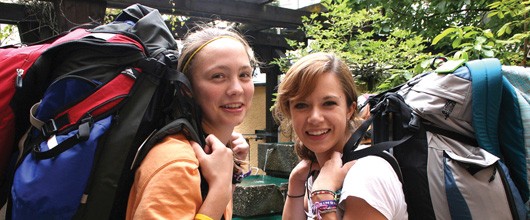 Travel
Every girl deserves a chance to see the world! Whether you're exploring your own neighborhood, going on overnight camping trip, or flying across the world—you're always expanding your horizon with Girl Scouts. Travel with Girl Scouts from our council and across the United States. There's an entire world out there waiting to be explored by you.

Ways to Travel
Girl Scout Destinations

Girl Scout Destinations whisk you to the far corners of the Earth! These trips are sponsored by councils across the country and are for all Girl Scouts ages 11 to 17. On these adventures, you will meet girls from all across the work while developing your leadership skills and gaining confidence through travel. From hiking through the Andes to snorkeling with turtles in Costa Rica, adventure is out there!  2017 Destination trip locations and applications will be released in August, but you can check out 2016 Destination trips now.
2017 Tri-Council Trip to Belize 
Join Girl Scouts from Colorado, Wyoming & Western Washington for a trip to explore Belize in July, 2017!
Volunteer-Led Girl Scout Trips
Looking for more travel options? Volunteer-led trips are geared towards individual girls and girls wanting to travel outside of their own troop. Planning for these trips is girl-led, so girls can help design their dream travel experience.
Financial Assistance and Scholarships
Financial assistance is available to help you explore the world!

Global Girl Scouting Committee
The Girl Scouts of Colorado Global Girl Scouting Committee supports the mission of Girl Scout sisterhood through travel by sharing travel resources and opportunities to visit World Centers.
Travel Resources:

Global Travel Toolkit


Money Earning Guidelines


Trip Notification


Trip Insurance


Girl Health History for Extended Trips
Questions about traveling with Girl Scouts? Contact Anna Danila, Outdoor and Travel Program Manager.