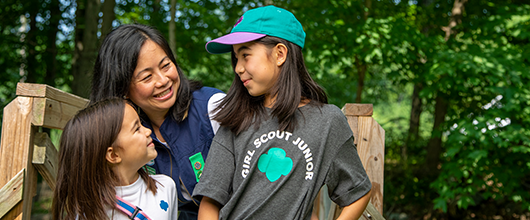 Be the role model she'll always remember.
As a volunteer, you'll introduce girls to new experiences that show them they're capable of more than they ever imagined. We always need troop leaders to start new troops for girls in K-12 grade, and there are numerous  other ways to get involved.
Want to Start a Troop?
You'll be their cheerleader, guide, and mentor, helping them develop skills and confidence that will last a lifetime. Imagine the smiles, the excitement, the memories made—those are the moments you'll share at Girl Scouts. We'll provide training and support all along the way, so you're not on your own in forming and leading your troop.
To start a new troop, you'll need to: 
Become a member of Girl Scouts. Membership costs $15 per year*. 
Register as a volunteer, and complete a background check for an additional $8 cost*.
Complete the required training, which includes an online orientation and in-person training session. Additional training is available along the way. 
Recruit more leaders. You'll want at least two people on your leadership team, and the more the merrier!
Recruit girls! Contact us if you want us to host a Parent Information Night in your school or find girls looking for a troop.
Ready to get started?
Click the button below to complete registration, view our Opportunity Catalog, and purchase your membership.
*Financial assistance is available