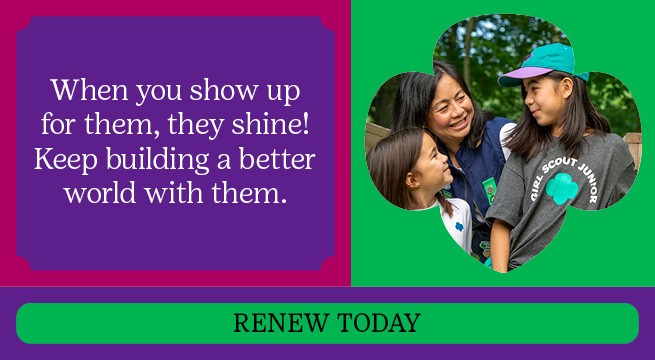 Early Bird Registration
You are more than a Girl Scout. You're a G.I.R.L.
We believe there's no such thing as too much. That there's no excuse for making excuses. Our strength doesn't come from how much we can lift but from how often we can lift ourselves back up. We are everyday optimists. Adventure seekers. Problem solvers. We are girls, troop leaders, mentors, advocates, parents, Girl Scouts. We are G.I.R.L.s (Go-getter, Innovator, Risk-taker, and Leader). We will not stop. In fact, we're just getting started.
Any girl renewed between May 1 and June 15 will receive a free Early Bird patch. Any troop that has completed the Annual Troop Report for this membership year and has two Troop Leadership Team members renewed by June 15 will receive a $25 credit to the Girl Scouts of Colorado Shop.
Early Bird promotion is May 1 - June 15

Got a question? We're here to help!
Email us or give us a call at 877-404-5708